OUR MISSION AT TRANSFORM ENERGY
We value-engineer sustainable solar solutions.
OUR CORE VALUES

Integrity

Dedication
We care about our customers and are committed to their sustainability and success.

Service

Excellence
We are hard-working, progressive problem solvers, who take pride in ownership.

Resourcefulness
We are mission-driven,
versatile team players.
An energy company should not just design and install your project, they should be your lifetime partner in developing and implementing your renewable energy strategy.
OUR PROCESS AT TRANSFORM ENERGY
Energy Assessment
During your A-Z energy assessment, specialists determine current energy demand, rates, and facility effectiveness.

By analyzing your business needs, you will have an energy plan that is tailored to your specific business needs.
Engineering & Implementation
The data gathered during the assessment is used to value-engineer an effective and comprehensive energy system for your business.

You will see a maximized return on investment while reducing the cost of energy and increasing efficiency of the entire system.
Optimization & Maintenance
It is important to know that you won't be left hanging once your system is installed. By providing continued maintenance, monitoring, and optimization after your system is installed. Regular system inspections will be conducted to ensure your system is running strong.

Through innovative solutions like battery back-up and automatic cleaning solutions, all of your energy needs are sure to be met.
SOLAR DOESN'T HAVE TO BE A DIRTY WORD.
Solar should be simple and painless for business owners. We'll partner with you to formulate a sustainable energy model you can be sure is
custom-tailored to your business needs.
Work with a full-service renewable energy systems provider. Licensed and Bonded in General Building Construction, Electrical Construction, and Roofing. One of the only renewable energy companies licensed in all disciplines that could apply to your project.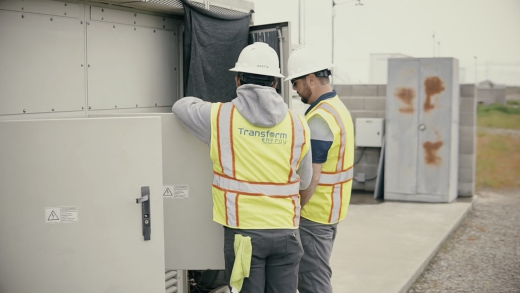 Experience our pride in micro-analysis and value engineering which ensures that your investment is well spent and is positioned for the
highest ROI possible.
Are you ready to take the leap toward paying less for power?
OUR SERVICES
Click on an area of service to learn more.
HEAR FROM OUR CUSTOMERS
The Future Of Energy Costs
What you can expect in the future in relation to rising energy costs.
Van Ruin Family Winery
Bill Rogan, CEO of Van Ruiten Winery, talks about their experience working with Transform Energy.
California Almond Packers & Exporters
Matt Esteve of CAPEX describes their company's experience working with Transform Energy.
Hogan Manufacturing
Leading manufacturer with substantial energy requirements.
Travaille & Phippen
California Almond processer using large amounts of electricity.
Thomas Allen Vineyard & Winery
Decreased their PG&E bills by 75% by adding commercial solar.